As a supplementary activity, the papis make their cars avaible to add a touch of elegance to your romantic getaway, your sunny weekend, your wedding, also a good gift for an outing or for a role in a clip or a movie!
These exceptional vehicles, rented with or without a driver, will allow you to combine the pleasure on the road and the originality for an exceptional trip at an affordable price!
"It's always in old pots that we make the best soup!"
New: It is possible to offer a gift voucher.
Our vehicles:
Only in Switzerland: The 2cv-Camping
Renovation 2018, all the details about this new venue can be found under the french version. Sorry, I need time to translate!
Citroën 11B Traction of 1956 – black
Renovated from 2014 to 2017, it was in a poor state
Rent between April and October, with driver only
max. 3 places in addition to the driver (because it's a grandmother)
Price : 100chf per hour – minimum 2h (from the 5th hour : 60chf/h)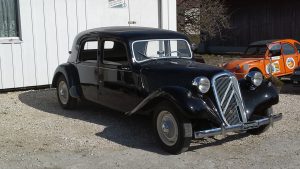 Citroën 2cv6 Spécial 1987 – green
Renovated in 2003-2009, Claude knows each of her washers
Rent between April and October,with driver only 
max. 3 seats in addition to the driver (it was already the case in 1948
Price: 60chf per hour – minimum 2h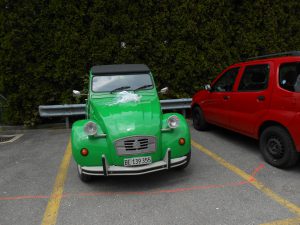 CITROëN 2CV6 SPECIAL 1987 – RED
Renovated in 2018-2019, all is new
Rent between April and October, with or without driver
max. 3 seats in addition to the driver (it was already the case in 1948)
Price:  with driver :60chf per hour – minimum 2h / without driver : 200chf per 24 hours min 2                                                                       
General conditions: rent with driver
What are included in the price:
Fuel
Vehicle and passenger insurance
Rental of the vehicle with driver
Transporting vehicle from the garage to pickup point (max: 50km)
Unlimited mileage
General conditions: rent without driver
What are included in the price:
Vehicle and passenger insurance
Vehicle rental
Mileage of 300km maximum per day (after: 0,70ct per km)
Rental conditions:
Return the vehicle in the same condition as the day of departure, with full fuel
Driver license required (Minimum age: 20 years old)
Speed cameras and other fines at your own expense (powerful car)
Other details are described in the rental contract
The car is located in: Rue du Bruye 51a, 2732 Reconvilier